Bathroom Design Poll
When it comes time to renovate your bathroom, there are an endless number of options available to create your own special design.  To help get a feel for what is hot and what is not, take the bathroom poll.  Vote Yes, No or Mixed Feelings to express your thoughts on the following four creative bathroom options.
Bathroom 1 – Cattle Tank Tub
This idea is created by repurposing a livestock feed tank. The painted galvanized tank certainly becomes a conversation piece, but would you want this in your home?
Loading ...
Bathroom 2 – Industrial Sinks
Having two bathroom sinks is alway popular, but what about this double industrial sink look for your bathroom?
Loading ...
Bathroom 3 – Old  Credenza
Although there are many elements that make up this retro bathroom, the old credenza is the focal point.  Would you put this in your bathroom?
Loading ...
Bathroom 4 – Busy Wallpaper
Loading ...
— — —
---
---
Marijuana – What May Be Disclosed and What Must Be Disclosed
It's now legal to purchase and grow small quantities of marijuana in Ontario. For home buyers it's important to know that there could be information that MAY BE disclosed in a real estate transaction, at the seller's discretion concerning marijuana, but not all information from a seller MUST BE disclosed.
Cannabis legalization does not impact the laws that dictate when disclosure is required, so here are a few things to keep in mind as a homeseller or homebuyer now that the legalization of cannabis has occurred in Canada.
Stigmas vs. defects
To understand the disclosure requirements, it's important to remember the distinction between stigmas that relate to a home's past and physical defects in the property.
Stigmas
A stigma is a non-physical attribute of a property that may trigger a negative emotional or psychological response in a potential buyer. However, the events or circumstances that prompt the response do not necessarily have any bearing on the function or appearance of the property. Examples include a home that was previously occupied by a notorious criminal, or, a home where a suicide occurred.
What facts may constitute a stigma will vary from buyer to buyer, depending on their sensitivity regarding certain issues. For example, one buyer may believe a home where a single marijuana plant was legally grown is stigmatized, while another buyer may have no concern whatsoever. In Ontario, there is no requirement on sellers to disclose the existence of facts that may elicit stigmas in buyers. However, I can as your buyer's representative, make specific inquiries about issues that are important to you.
Defects
A defect, on the other hand, is a physical attribute of the property. Physical defects fall into two broad categories:
Patent defects are readily visible or can be identified during a home inspection that does not involve making holes in the structure or removing access panels. For example, damage or visible stains may suggest a water leak from the roof. There is no requirement for the seller to disclose patent defects.
Latent defects are not apparent and may not be easily discoverable, even by a home inspector or other expert. If the latent defect poses a serious risk to the health and safety for those who live in the home, it must be disclosed by the seller. Examples of latent defects that must be disclosed include structural problems that render the residence dangerous to occupy or, wear or damage to utility systems that places occupants at risk.
Marijuana and property damage
It's important to understand the difference between patent and latent defects as it applies to cannabis cultivation. Growing marijuana inside a dwelling may not necessarily cause physical damage to a property. If there is no physical damage or if the damage has been fully remediated, and therefore free of any defect, the home's history is still a potential cause for stigma if it is a concern for the buyer.
Sellers
Before listing a property, it's important for you to discuss with me as your seller representative, any issues with the property that may be relevant to the sale.
If growing marijuana has damaged the property to the point that the home is unsafe to live in, and the defect is not obvious to the naked eye, it's a latent defect that must be disclosed.
The issue is less clear-cut if the property was previously used to grow marijuana but is not damaged in any way. Ontario's Courts have determined that sellers don't have to proactively disclose the history of their home during their ownership of it, even if the property carries a stigma. However, there's nothing to stop a buyer from trying to sue the seller for failing to disclose the stigma. Even if the lawsuit is unlikely to succeed, the seller could still face a long, costly legal proceeding.
When it comes time to sell your home it is important to discuss with me as your seller representative the trade-offs of proactively disclosing the home's history to a potential buyer. What is up for discussion is what has happend in the home while you owned it, while also fully understanding that you as the seller may not know anything about the home before you owned it.
A buyer's sales representative may also specifically ask whether the home has ever been used to grow marijuana. In this case, there are two options: you may either answer truthfully, or decline to answer the question and direct the buyer to conduct their own research. The choice of these options lies exclusively with you the seller.
Buyers
My responsibility to you as a buyer is to work with you to ensure the property is suited to your needs. A key component of that is a clear understanding of what you want and what you need in a property, and what you absolutely do not want.
During these buyer conversations, if the you made it clear that you do not want to purchase a home where marijuana has been grown, there are several actions that can be taken to ensure your wishes are met.
First, when you as a buyer are interested in a property, I as your agent can make direct inquiries to the seller's representative. The seller's representative may opt to answer the inquiry, or, give direction to conduct your own research.
Second, no matter what response the seller provides, it's advisable to conduct independent research into the property's past. This could include a simple online search of the address, or obtaining other public records regarding the property. Many municipalities or police services maintain registries of residences that have been used to grow marijuana illegally, but often this information is also kept confidential due to privacy regulations. Most often any search will uncover only major grow-ops, not the small-scale growing of a few marijuana plants.
Third, as your buying agent, I can include in your offer a seller's warranty that the home was not used to grow marijuana. Typically, and for obvious reasons, these types of warranties should only cover the period of the seller's ownership and occupancy. Depending on the language of the contract provision, if the seller refuses to agree with the warranty, it may indicate that the property was used as a marijuana grow-op, or, it may simply mean that the seller doesn't know what went on in the property before they bought it.
Contact me with any questions you have concerning this topic or any area of interest for buying or selling in real estate here.
Source:  Real Estate Council of Ontario (RECO)
---
---
Mobile Flip Workbench
If you wish you had a larger workshop area in your basement or garage, perhaps all you need is one of these.  The solution might be to get all your favourite tools better organized and readily available to work with them with a flip workbench.
When I first learned about the flip workbench I had one of those "Why Didn't I Think Of That?" moments. When I started to look into it I discovered that many people thought about this great solution to a better work area and the ideas range from elaborate to simple, but all are very effective.
Here are a few ideas surrounding Mobile Flip Workbenches.  The first one is a basic flip bench that Crafty Trev put together.  Wait until the end of the short video to understand this simple table with big benefits.
Here's the link to all of Crafty Trev's details on building this bench.
A Few More Features
For a more elaborate flip workbench take a look at this baby that Kent put together.
Here's the link for all the details on the elaborate flip workbench in the video above.
Serious DIYer
Elisha from Phoenix calls herself a serious DIYer.  Below is her creative touch for a flip workbench.
Here the link to Elisha's Flip Top Workbench.
As mentioned, there are dozens of ideas on the flip top workbench.  Pick your favourite features and add a practical, functional addition to your favourite work area.
Good luck on amalgamating the best ideas for your own DIY Flip Workbench.
— — —
---
---
Hiding What Can't Be Removed
Sometimes a very necessary, but very ugly gas metre is situated in an area that is least desirable with plans for around your home.
With a little creativity and not a huge investment, you can wave your magic wand.
Go from this…..
To this…..
Get the full story on hiding an ugly utility metre here.
Find out what is hiding behind this and get many other ideas on hiding the ugly around your home here.
— — —
---
---
Lighting When You Don't Have Wiring 
In an older home often you have areas where you want more lighting, but the lack of wiring makes this difficult.  You're faced with an extension cord to plug in a lamp or hiring an electrician for the wiring you'll need to provide a wall or ceiling light.
Here's an idea that is both economical and with your creativity can be a stunning addition to your home.
Wireless Puck Lights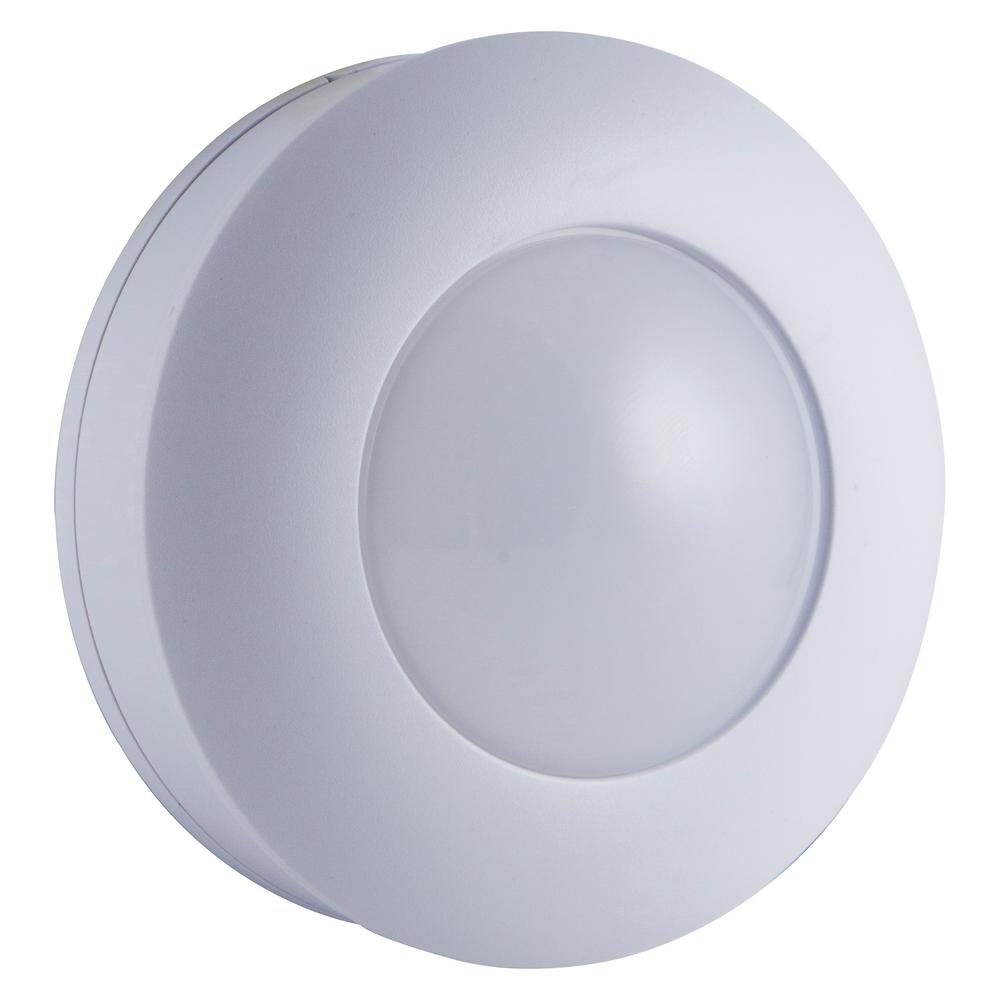 (Sample Home Depot Puck Lights – Click here for pricing)
Not only can wireless puck lights add light to those dark areas of your home, but with a little imagination they can create a stunning area in your home that in the past was impossible without ugly extension cords or the added expense for rewiring an area of your home.
A Puck Light Is Begging For Your Creativity
Take a look at this idea from Within The Grove and then let your own creative mind go to work for what might be possible in your own home.
Click picture above for Within The Grove explanation of using Puck Lights for this stunning accent wall.